Save Money on Air Conditioning This Summer
The summer season is almost here and you are probably already searching for tips on how to save money on air conditioning. There is no doubt that air conditioning can be pricey if it is used incorrectly. However, our HVAC professionals have tips and tricks to keep your house cool while keeping your budget in mind.
Tips To Save Money On Air Conditioning
Stay Local

The first tip to saving money on air conditioning is to find a local company that specializes in HVAC. These companies are very familiar with the different weather patterns in your location and know how to best optimize your AC unit.

Get your AC unit serviced

If you have not had your AC Unit repaired in a long time, it is best to have it done before the summer months start. An AC unit that is not working properly will end up costing you hundreds or thousands of dollars in the long run. Find a reputable company that will get your unit working like new!

Invest in an automated thermostat system

One of the best things you can do to save money on your air conditioning is to invest in an automated thermostat system, such as the Nest. By automatically controlling the temperatures in your home you never have to worry about turning the air conditioning unit on or off. It will also help the temperature stay consistent in your home.

Keep doors closed and windows shut (including the blinds)

Although it may be tempting to keep windows and doors open during the hot summer months, this will actually cause the air conditioning unit to work overtime. Although a breeze may feel like it is cooling the house off. In reality, the unit will need to compensate for the additional hot air coming in. This means a huge increase in utility bills. Be sure to keep all doors closed and windows shut (with the blinds down for extra cooling effect) during the hottest time of the day.

Get the right-sized air conditioning unit for your home

Many people think that they need a large air conditioning unit to cool their home, no matter the size of the space. The larger the unit, the higher the cost of air-conditioning will be. Master Rooter Plumbing & HVAC professionals can help you determine the correct size for your space. Don't overpay for energy that is not needed!

Ceiling fans

Save some money by installing ceiling fans throughout the upper rooms in the home or building! Not only does moving air keep rooms feeling cooler, but it will also help evaporate sweat from your skin. This evaporation helps keep the body cooler and the need to blast the air conditioning down. Many experts recommend keeping windows in the lower levels open while running the fans in the upper levels. This helps maintain constant air movement throughout the house.

Cook outside

Keep your home cooler by avoiding cooking in the oven or stove. These appliances are notorious for heating up the air in the home, thus making the HVAC system work harder to keep temperatures cool. Summer is the perfect time for grilling! Just be sure to close the door each time you come in or out of the house to keep the cool air in!

Head downstairs

Finally, making a basement the place to hang out during the summer months will help keep your bills down! The reason the basement tends to be the coolest spot in the house is that cold air sinks. Spending time in the basement means that you will feel cooler and your air conditioning will not need to work as hard to keep the upper levels of your home or building cool!
Air Conditioning Repairs Will Save Money
Another way to save money on air-conditioning is to ensure the system is working properly. An HVAC that has faulty parts or is not working correctly may be costing you hundreds of dollars without you even knowing it.
Air Conditioning Duct Leaks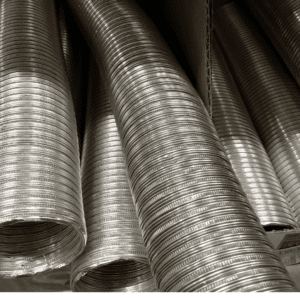 Leaks in the air ducts of the air conditioning unit can increase costs by making the system run harder and longer than necessary. It can be hard to spot a duct leak, so it is important to look for the tell-tale signs including:
Visible damage to the duct system

The easiest way to notice a leak is any visible damage to the air conditioning duct system. Signs of damage include small holes or collapsing in the ducting. Ducting is the network of tubing (usually metal) that carries the air from the unit around the home.

Hot or cold spots throughout the home

If you notice that certain rooms tend to be hotter or colder than other rooms in the house, that is a sign of an air duct leak. Leaks make it hard for the air to reach the final destination, therefore variations in temperature throughout the house or building is a sign to call your local HVAC professionals.

An increase in utility bills

Finally, an increase in energy bills is another sign of an air duct leak. If you notice a sudden increase in utility bills but have not changed appliances or other systems in your home, an air duct leak is likely the culprit. For many people, an increase in money coming out of their wallets is the first sign of a leak.
If you notice any of the above it is a good idea to have an HVAC professional come and inspect the system.
Why Choose Master Rooter Plumbing & HVAC?
People in Denver, CO are familiar with hot summers and chilly winters. They rely on their HVAC systems to keep their homes at a comfortable temperature all 12 months of the year. When your unit isn't functioning at its peak performance, you'll definitely notice it. That's why you need dependable and honest HVAC repair technicians. At Master Rooter, we're happy to provide heating and cooling services to our customers 24/7.